Pick a Widget screen
Specifies a widget to add in a custom page.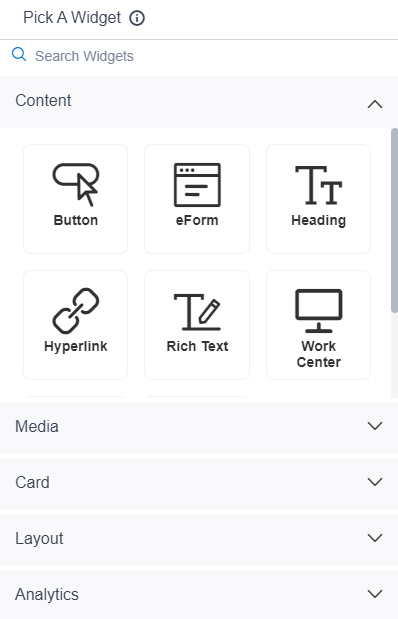 Video: Page Builder Overview
Examples
Examples - Step-by-step use case examples, information about what types of examples are provided in the AgilePoint NX Product Documentation, and other resources where you can find more examples.
How to Start
Open the

Custom Page Design

screen.

For information about how to open this screen, refer to Custom Page Design screen.





Click

Add Widget

.




Fields
Field Name
Definition

Search Widgets

Function:

Does a search for a widget.

Button

Opens this Screen:

Function of this Screen:

Shows a button on a custom page

.

eForm

Opens this Screen:

Function of this Screen:

Shows an eForm on a custom page.

Heading

Opens this Screen:

Function of this Screen:

Shows a heading on a custom page

.

Hyperlink

Opens this Screen:

Function of this Screen:

Shows a hyperlink on a custom page

.

Work Center

Opens this Screen:

Function of this Screen:

Shows a Work Center Dashboard on a custom page.

Report View

Opens this Screen:

Function of this Screen:

Shows a report view on a custom page

.

Stacked Hyperlink

Opens this Screen:

Function of this Screen:

Shows hyperlinks in stack orientation on a custom page

.

Raw HTML

Opens this Screen:

Function of this Screen:

Shows the results of raw HTML code on a custom page

.

Audio

Opens this Screen:

Function of this Screen:

Shows an audio file on a custom page

.

Embed

Opens this Screen:

Function of this Screen:

Shows an embedded content on a custom page

.

Image

Opens this Screen:

Function of this Screen:

Shows an image on a custom page

.

Image Carousel

Opens this Screen:

Function of this Screen:

Shows an image carousel on a custom page

.

Animation Card

Opens this Screen:

Function of this Screen:

Shows an animation card on a custom page

.

Audio Card

Opens this Screen:

Function of this Screen:

Shows an audio card on a custom page

.

Embed Card

Opens this Screen:

Function of this Screen:

Shows an embedded card on a custom page

.

Image Card

Opens this Screen:

Function of this Screen:

Shows an image card on a custom page

.

Profile Card

Opens this Screen:

Function of this Screen:

Shows a profile card on a custom page

.

Thumbnail Card

Opens this Screen:

Function of this Screen:

Shows a thumbnail card on a custom page

.

Video Card

Opens this Screen:

Function of this Screen:

Shows a video card on a custom page

.

Row

Opens this Screen:

Function of this Screen:

Shows a row on a custom page

.

Horizontal Menu

Opens this Screen:

Function of this Screen:

Shows a horizontal menu on a custom page

.

Vertical Menu

Opens this Screen:

Function of this Screen:

Shows a vertical menu on a custom page

.

Horizontal Divider

Opens this Screen:

Function of this Screen:

Shows a horizontal line on a custom page

.

Vertical Divider

Opens this Screen:

Function of this Screen:

Shows a vertical line on a custom page

.

Report Part

Opens this Screen:

Function of this Screen:

Shows a report part from Analytics Center on a custom page.

Limitations:

The Report Part widget

is available in these releases

: