Home screen
Shows the summary of custom web pages and menus.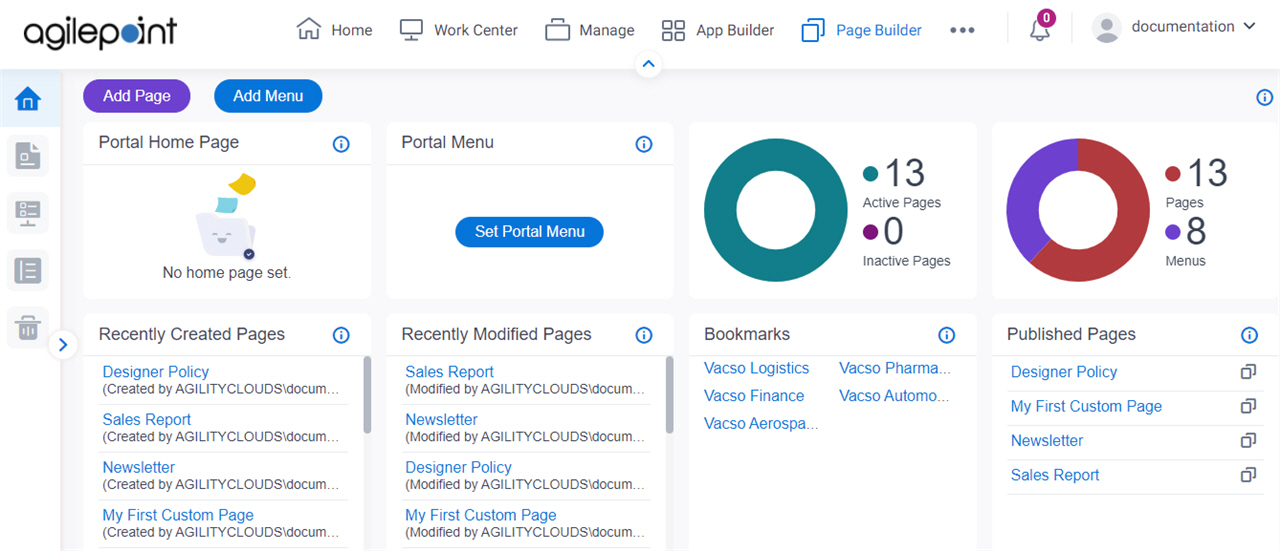 Video: Page Builder Overview
Examples
Examples - Step-by-step use case examples, information about what types of examples are provided in the AgilePoint NX Product Documentation, and other resources where you can find more examples.
How to Start
Click

Page Builder

.





Click

Home

.




Fields
Field Name
Definition

Page Name

Function:

Shows the internal name of a custom page you set as your home page in the Page Builder.

If you do not set any page as a home page, the Portal Home Page section shows No home page set, and the Portal uses the default home page.

Accepted Values:

Read only

.

Title

Function:

Shows the title of a home page you created in Page Builder.

If you do not set any page as a home page, the Portal Home Page section shows No home page set, and the Portal uses the default home page.

Accepted Values:

Read only

.

URL

Function:

Opens a Page Builder home page.

If you do not set any page as a home page, the Portal Home Page section shows No home page set, and the Portal uses the default home page.

View / Edit

Opens this Screen:

Function of this Screen:

Lets you view or change your homepage in the Page Builder.

Reset

Opens this Screen:

Function of this Screen:

Changes the page that is set as the home page and uses the default configuration for the home page

.

Set Portal Menu

Opens this Screen:

Function of this Screen:

Lets you manage a custom menu in Page Builder.

Active Portal Menu

Function:

Shows the name of a menu you set as your portal menu in the Portal Menu Designer screen.

If you do not set the menu as a portal menu on the Page Builder Home screen, the Portal Menu section shows Set Portal Menu, and the Portal uses the default menu.

To Open this Field:

On the Home page, in the Portal Menu section, click Set Portal Menu.
On the Portal Menu Designer screen, click Set As Portal Menu.
On the Set As Portal Menu screen, enter CONFIRM, and click OK.

View / Edit

Opens this Screen:

To Open this Field:

On the Home page, in the Portal Menu section, click Set Portal Menu.
On the Portal Menu Designer screen, click Set As Portal Menu.
On the Set As Portal Menu screen, enter CONFIRM, and click OK.

Function of this Screen:

Lets you manage a custom menu in Page Builder.

Restore NX Portal Menu

Opens this Screen:

To Open this Field:

On the Home page, in the Portal Menu section, click Set Portal Menu.
On the Portal Menu Designer screen, click Set As Portal Menu.
On the Set As Portal Menu screen, enter CONFIRM, and click OK.

Function of this Screen:

Changes the custom menu that is set as the Portal menu and uses the default configuration for the Portal menu

.

Add Page

Opens this Screen:

Function of this Screen:

Creates a custom page in Page Builder.

Add Menu

Opens this Screen:

Function of this Screen:

Creates a custom menu in Page Builder.

Portal Page Statistics

Function:

Shows a summary of custom pages in a graph.

Accepted Values:

Pages - Shows the total number of pages you created in Page Builder.
Menus - Shows the total number of menus you created in Page Builder.
Active Pages - Shows the number of pages that are activated in Page Builder.

To activate the page, refer the Activate field in Portal Page Design screen

.
Inactive Pages - Shows the number of pages that are deactivated in Page Builder.

To deactivate the page, refer the Deactivate field in Portal Page Design screen

.

Recently Created Pages

Function:

Shows the 20 pages that were created last.

Accepted Values:

Read only

.

Recently Modified Pages

Function:

Shows the 20 pages that were last changed.

Accepted Values:

Read only

.

Bookmarks

Function:

Shows the saved pages that has been added to a bookmark for easy access.

To create a bookmark, refer to the Bookmark field in Portal Page Design screen.

Accepted Values:

Read only

.

Published Pages

Function:

Shows the pages that are published.

Accepted Values:

Read only

.

Limitations:

The Published Pages option

is available in these releases

:

Copy Direct Link

Function:

Copies the URL of the published custom page or sample page.

You can use the URL to open the custom page in a new browser window or a new tab.

Limitations:

The Copy Direct Link field

is available in these releases

: