Page Builder screen
Lets you create and manage a custom page.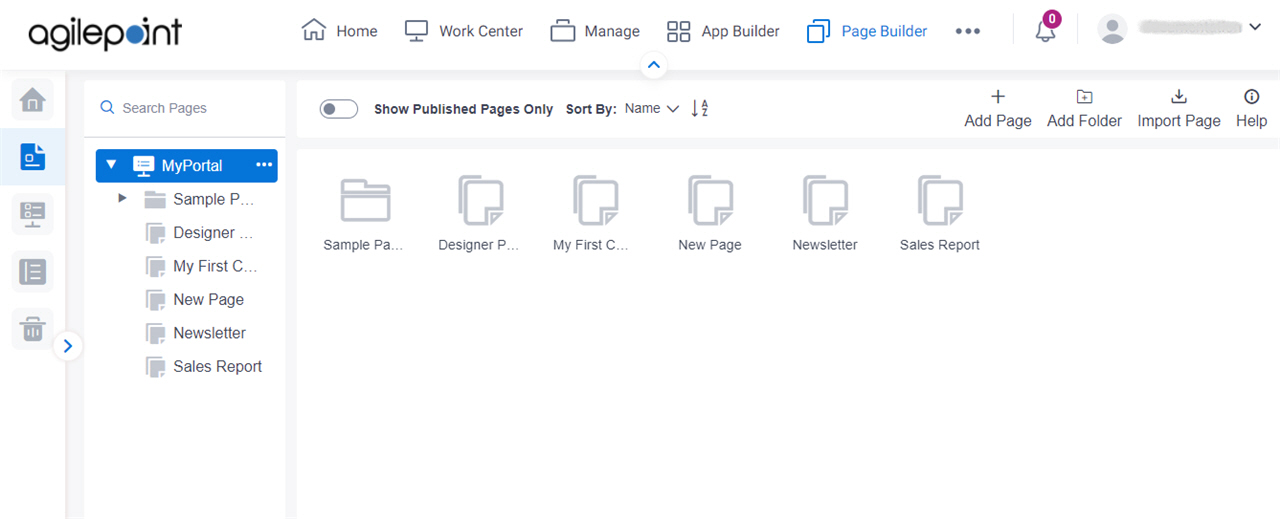 Video: Page Builder Overview
Examples
Examples - Step-by-step use case examples, information about what types of examples are provided in the AgilePoint NX Product Documentation, and other resources where you can find more examples.
How to Start
Click

Page Builder

.
On the Page Builder Home screen, in the left pane, click

Page Designer

.





Click

Sample Pages

.




Fields
Field Name
Definition

Show Published Pages Only

Function:

Specifies whether to show only published pages on the Pages screen.

Accepted Values:

Selected - Shows only published pages on the Pages screen.
Deselected - Shows both published and unpublished pages on the Pages screen.

Default Value:

Deselected

Limitations:

Add Page

Opens this Screen:

Function of this Screen:

Creates a custom page in Page Builder.

Add Folder

Opens this Screen:

Function of this Screen:

Creates a folder in Page Builder to organize pages and content

Import Page

Opens this Screen:

Function of this Screen:

Uploads an exported custom web page from your local machine, and adds it to Page Builder.

To export a custom page, refer to the Export field in Custom Page Design screen.

Sort By

Function:

Specifies the sort order

for the example pages.

Accepted Values:

Sort By Name - Sorts the pages in ascending, alphabetical order by page name.
Sort By Modified Date - Sorts the pages by the dates they were last modified.
Sort By Created Date - Sorts the pages by the dates they were created.

Default Value:

Sort By Name

Search Pages

Function:

Does a search for custom pages.

Page

Function:

Click a page to change its content.

Sample Pages

Opens this Screen:

Opens this Screen:

Shows the example pages that come by default in Page Builder. These pages demonstrate how to use some features in Page Builder.

Limitations:

This field

is available in these releases

: