Work Center
The Work Center is an AgilePoint NX component where you can access to the information about the work you care about, and the applications that are available for your use.
My Work provides information about the tasks and process instances that are active in the system. You can click any item in a task list or process list to see the options available.
My Applications provides a list of applications that have been published for your use. Click any application to start a new instance.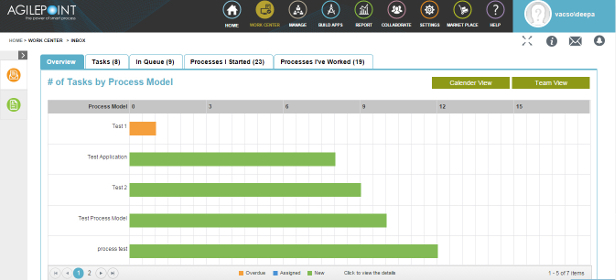 Related Topics
Video: Filter Applications on the My Applications screen
Video: Assign a Task to a New Participant
Video: Setup Custom Columns and Tabs
About This Page
This page is a navigational feature that can help you find the most important information about this topic from one location. It centralizes access to information about the concept that may be found in different parts of the documentation, provides any videos that may be available for this topic, and facilitates search using synonyms or related terms. Use the links on this page to find the information that is the most relevant to your needs.
Keywords
Work Center, Dashboard, task list, process list, kickoff, kick-off, task, form, eform