Create a Microsoft PowerPoint File
To create a Microsoft PowerPoint file, do the procedure in this topic.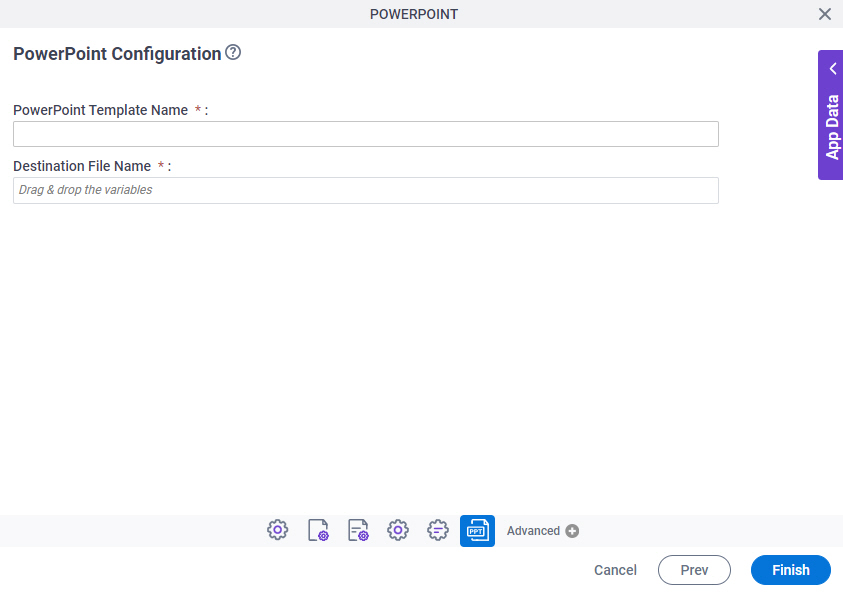 How to Start
Open

Process Builder

.

For information about how to open this screen, refer to Process Builder.





In

Process Builder

, in the

Activity Library

, open the

Document

tab.





On the

Document

tab, drag the

PowerPoint

activity onto your process.




Procedure
Complete the fields on the

General Configuration screen.
Click

Source Configuration

.
On the Source Repository screen, select

the source location of your

PowerPoint template file.
Click

Target Configuration

.
On the Target Repository screen, select the target location for your output Microsoft PowerPoint file.
Click

PowerPoint Configuration

.
On the PPT Generator Configuration screen, in the PPT Template Name field, shows the name of the PowerPoint template file that is selected in the source repository.
In the Destination File Name field, enter the file name of the output file.

You can use Process Data screen to specify a process data variable.

(Optional) Click

Advanced

>

Email Notifications

.

For more information, refer to Email Notifications screen (Process Activities).