SharePoint tab
This section gives full information about the activities on the SharePoint tab.
Activities in Process Builder
You can use out-of-the-box activities for SharePoint to execute actions in process-based apps.
An activity is a functional unit, or task, in a process-based app. Activities that integrate with a third-party system provide access to the API functionality for that system in a simple, point-and-click, form-entry format. This means that you can easily leverage APIs without writing code.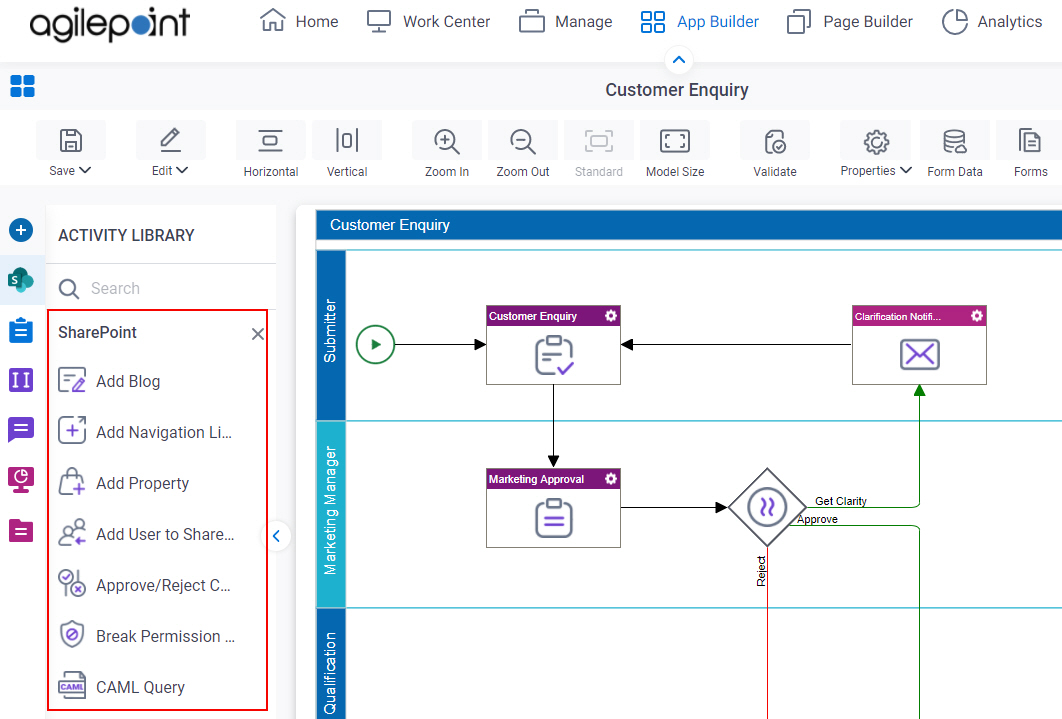 The following activities are available for SharePoint:
Add Blog
Add Navigation Link
Add Property
Add User to SharePoint Group
Approve/Reject Content
Break Permission Inheritance
CAML Query
Change Item Ownership
Check In File
Check Out File
Check Property
Copy Document Set
Copy Files
Copy List Item
Create Document Set
Create List Item
Create Multiple List Items
Create Permission Level
Create SharePoint List
Create SharePoint Group
Delete Document Set
Delete Draft Version
Delete Files
Delete Folder
Delete List Item
Delete Navigation Link
Delete Particular File Version
Delete Permission Level
Delete Property
Delete SharePoint List
Download Document Set
Excel Read
Excel Write
Excel Calculate
Get User Profile
List Form Start Task
List Form Standard Task
Move Document Set
Move Files
Move List Item
New Folder
New Form Library
New Library
New Site
New Site Collection
Portal Listing
Publish Content
Remove Permission
Remove SharePoint Group
Remove User From SharePoint Group
Restore File Version
Restore Permission Inheritance
Retrieve List Item
Retrieve Property
Set Permission
Set User Profile
SharePoint PowerShell Command
Submit File to Record Center
Subprocess With InfoPath
Undo Check Out File
Update InfoPath
Update Metadata
Update Navigation Link
Update Permission Level
Update Property
Update SharePoint Group
Upload Document Set
Write To Workflow History List
For more information, refer to the process activities for SharePoint in Process Builder.