Get User Profile activity

Configure the Get User Profile activity
To configure the Get User Profile activity, do the procedure in this topic.
General Configuration
Screen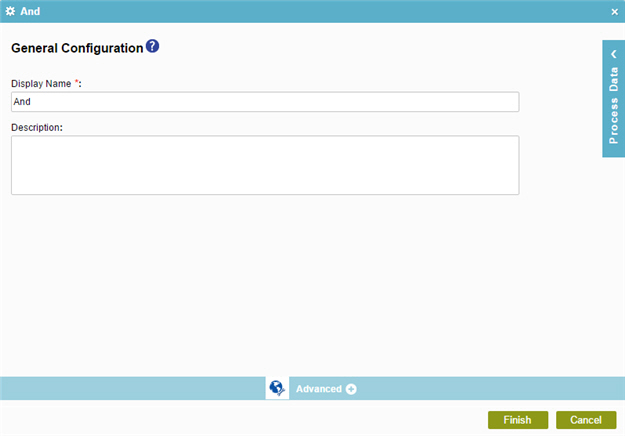 Fields
Field Name
Definition

Display Name

Description

Function:

Specifies an optional text description for your activity.

Accepted Values:

More than one line of text

.

Default Value:

None

Accepts Process Data Variables:

No
SharePoint Get User Profile Configuration
Specifies user profile information to get from SharePoint.
Screen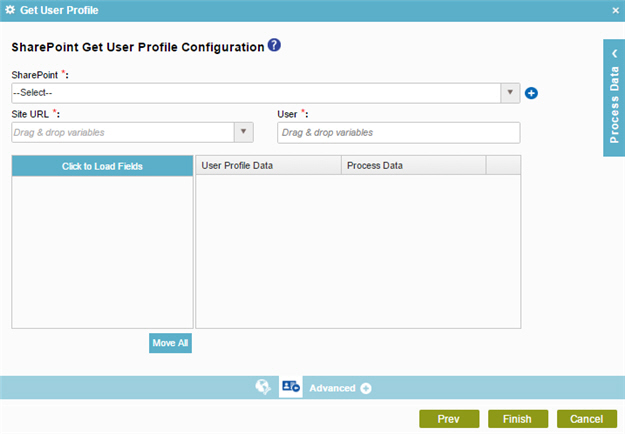 Fields
Field Name
Definition

SharePoint

Function:

Specifies the access token that connects to your SharePoint site.

Accepted Values:

A list of access tokens configured for your environment.

Default Value:

None

Accepts Process Data Variables:

No

Example:

Refer to

:

Add Token

Opens this Screen:

Function of this Screen:

Configure an access token to connect to SharePoint.

Site URL

Function:

Specifies the URL for your SharePoint site.

Accepted Values:

A valid SharePoint site URL

Default Value:

None

Accepts Process Data Variables:

Yes

Example:

http://[machine name]:[port]/sites/[site name]

Note:

You must include the

/sites

in the Site URL for the site to be created successfully.

User

Function:

Specifies the user name to associate with the action.

Accepted Values:

Default Value:

None

Accepts Process Data Variables:

Yes

Limitations:

The configuration details AgilePoint NX Product Documentation can provide for third-party integrations is limited. For more information, refer to the relevant section in Third-Party Vendor Documentation.

Click to Load Fields

Function:

Updates the available user profile information on the screen.

Move All

Function:

Moves all the user information to the User Profile Data field.

User Profile Data

Function:

Specifies the user profile data of the selected SharePoint user.

Accepted Values:

Default Value:

None

Accepts Process Data Variables:

No

Process Data

Function:

Gives a list of process data variables that stores the user information.

Accepted Values:

A valid process data variable.

Default Value:

None

Accepts Process Data Variables:

Yes