Cancel Process screen (Classic Work Center)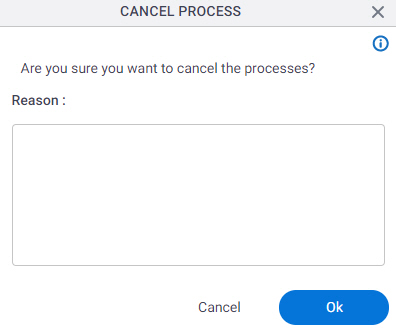 Background and Setup
Good to Know
Before cancelling, make sure that you want to cancel this process and its subprocesses.
Documentation for this screen is provided for completeness. The fields are mostly self-explanatory.

This topic applies to Classic Work Center. For Modern Work Center, refer to

Cancel Process screen (Modern).
How to Start
Fields
Field Name
Definition

Reason

Function:

Specifies information about your cancel action.

Accepted Values:

More than one line of text

.

Default Value:

None

Cancel

Function:

Closes the Cancel Process screen.

Ok

Function:

Cancels the process and subprocesses associated with the selected task.