Lookup Details for NetSuite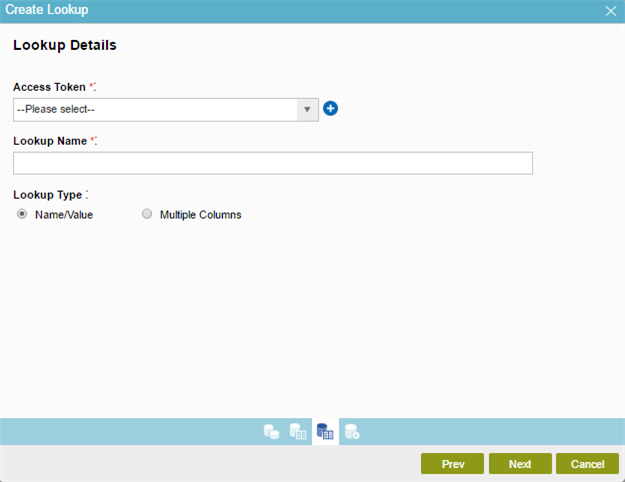 Good to Know
Documentation for Integrations with Third-Party, External, or Open Source Technologies

The highest priority for AgilePoint NX Product Documentation is accuracy. Whenever feasible, AgilePoint provides input details, business rules, or example values for third-party integrations. These can include any technology that is not native to AgilePoint NX, such as Salesforce, Active Directory, or REST. However this information is subject to change without notice to AgilePoint. Because we can not guarantee the accuracy of this information, the details provided for third-party product input values, as well as examples for third-party product integrations, are limited in the AgilePoint documentation. It is the responsibility of third-party vendors to provide documentation related to these aspects of their software and services.

For examples of use case implementations or configuration field input values for third-party products, AgilePoint recommends these resources:
How to Start
On the Application Explorer screen,

do one of these

:

Do one of these:

Add your form control:

On the eForm Builder screen, in the Toolbox, open one of these tabs:

Common Controls

Advanced Controls

Telerik Controls

On your tab

, drag one of these controls onto your form:

Auto-Suggest

List Box

Subform

Check Box

Auto Lookup

List View

Pop-Up Select

Drop-Down List

Auto-Suggest

Chart

Data Grid

Drop-Down List

Data Grid

Multi-Select List Box

Change your form control:

On your eForm, click the control, and click

Edit

.

On the Configure tab, click

Add Lookup

.
On the Select Data Source Type screen, select

NetSuite

, and click Next.
On the NetSuite Filter Type screen, select NetSuite filter types, and click Next.
Fields
Field Name
Definition

Access Token

Function:

Specifies the access token that connects to your data source.

Accepted Values:

A list of access tokens configured for your environment.

Default Value:

None

Accepts Process Data Variables:

No

Add New

Opens this Screen:

Function of this Screen:

Configure an access token to connect to NetSuite.

Lookup Name

Function:

Specifies the name you want to give to your lookup procedure.

Accepted Values:

One

line of text that can have spaces

.

Default Value:

None

Accepts Process Data Variables:

No

Example:

Refer to

:

Lookup Type

Function:

Specifies the type of lookup procedure to do.

Accepted Values:

Name/Value - The lookup gets data for specified name/value pairs.
Multiple Columns - The lookup gets data for more than one column.

Default Value:

Name/Value

Example:

Refer to

:

Next

Opens this Screen: