Import CSS screen
Uploads an exported CSS file from your local machine, and adds it to CSS library in Page Builder.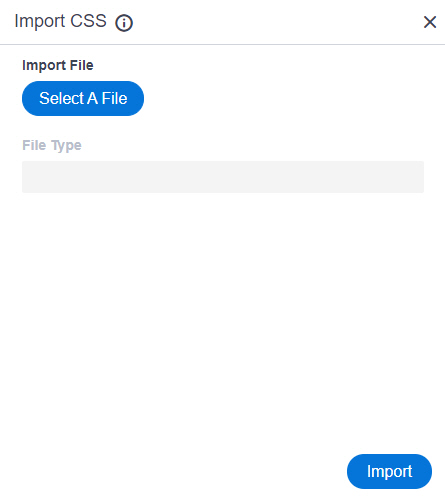 Video: Advanced Page Builder Features
How to Start
Click

Page Builder

.





On the

Home

screen, in the left pane, click

Library

.





In the left pane

, click

CSS

.





On the

CSS screen

, click

Import CSS

.




Fields
Field Name
Definition

Import File

Function:

Specifies a file that contains

the CSS to use.

Accepted Values:

A JSON file that contains an exported CSS snippet.

Click the Select A File button to select a file from your local file system.

This file must be exported from Page Builder.

For more information, refer to Export a CSS file from Page Builder.

Default Value:

None

File Type

Function:

Shows the type of the file you selected to import.

When you select the file, this field shows the file type by default.

Accepted Values:

Read only

.

Import

Function:

Uploads the file to the Page Builder library.