Change the Value of One Data Entity Field Based On Another Field
To create a relationship to change the value of one data entity field based on another field, do the procedure in this topic.
Screen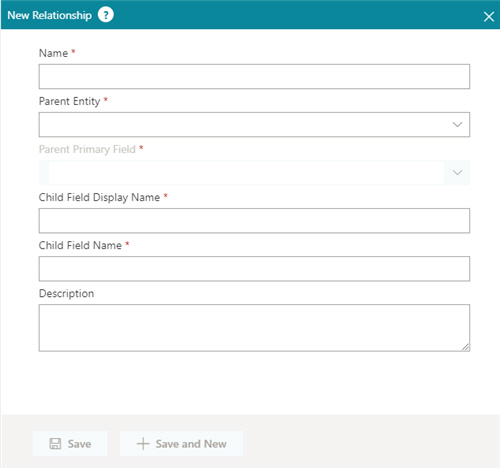 How to Start
On the Entities screen,

click an entity

.
On the Person entity, click the Relationship tab.
On the Relationship tab, click

Add Relationship

.
Procedure
Complete these fields

.

Field Name
Definition

Name

Function:

Shows the display name for the relationship.

Accepted Values:

Read only.

Example:

Refer to

:

Parent Entity

Function:

Specifies the entity with which to create a relationship.

Accepted Values:

An entity from the list.

Default Value:

None

Example:

Refer to

:

Child Field Name

Function:

Specifies the dependent field for an entity that is a child of this entity.

Accepted Values:

One line of text that can have spaces

.

Default Value:

None

Example:

Refer to

:

Child Field Display Name

Function:

Specifies the name that shows in AgilePoint NX for the relationship.

Accepted Values:

One line of text that can have spaces

.

Default Value:

None

Example:

Refer to

:

(Optional)

Complete this field

.

Field Name
Definition

Description

Function:

Specifies the description of the relationship.

Accepted Values:

More than one line of text

.

Default Value:

None