Configure List Type > Lookup List
Specifies configuration settings to create your chart with a lookup from a specified data source.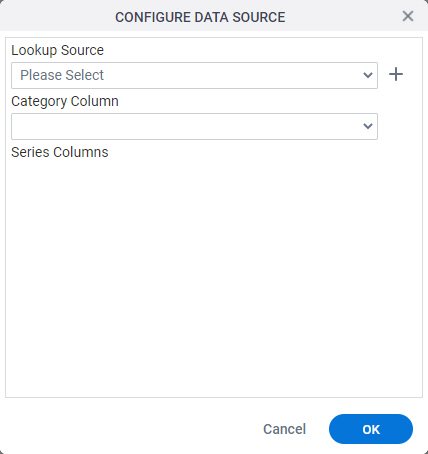 How to Start
On the

Chart

form control configuration screen, on the

Configure

tab, in the

List Type

list, select

Lookup List

.

For information about how to open this screen, refer to Chart form control.





Click

Configure Chart DataSource

.




Fields
Field Name
Definition

Lookup Source

Function:

Specifies a reusable lookup configuration. The lookup configuration includes the data source and other configuration values for the lookup.

Accepted Values:

A valid lookup source

Default Value:

None

Example:

Refer to

:

Add Lookup

Function:

Opens the screen to configure a lookup.

There is more than one path to configure a lookup. Make sure you use the document that shows the path for your lookup.

To Open this Field:

In the List Type field, select Lookup List.

Limitations:

The Chart form control only supports multiple column lookups.

Category Column

Function:

Completes the column value along the X-axis using a specified field from your lookup source.

Accepted Values:

A column value from the list.

The list shows when you select the Lookup Source.

Default Value:

None

Series Column

Function:

Completes the column value along the Y-axis with a specified field from your lookup source.

Accepted Values:

A column value from the list.

The list shows when you select the Lookup Source.

Default Value:

None