Or activity
An activity that merges multiple process branches into one branch. You can specify if successful completion of one of task cancels the activities in other branches of the process, or whether some or all activities can continue.
Configure the Or activity
To configure the Or activity, do the procedure in this topic.
How to Start
On the Application Explorer screen,

do one of these

:

Do one of these:

Add an activity:

In the Process Builder, in the Activity Library, open the

Common

tab.
On the

Common

tab, drag the

Or

activity onto your process

.

Change an activity:

In your process, double-click your activity

.
General Configuration
Screen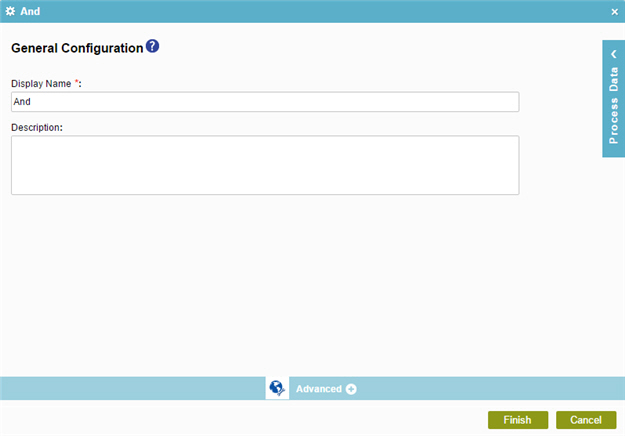 Fields
Field Name
Definition

Display Name

Description

Function:

Specifies an optional text description for your activity.

Accepted Values:

More than one line of text

.

Default Value:

None

Accepts Process Data Variables:

No
Configuration
Screen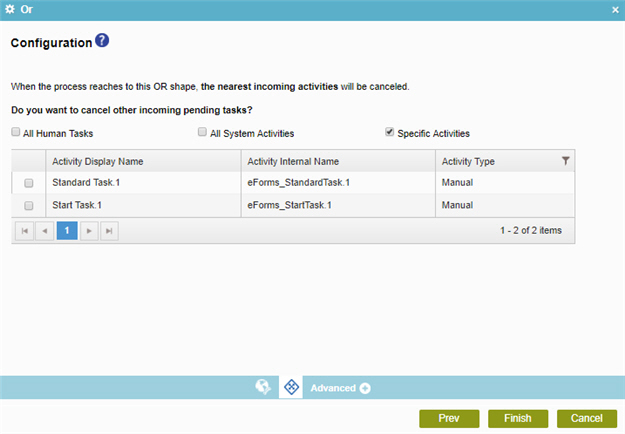 Fields
Field Name
Definition

All Human Tasks

Function:

Cancels the nearest incoming human task activities.

Accepted Values:

Selected - Specifies that the nearest incoming human activities are cancelled.
Deselected - Specifies that all the activities continue to run.

Default Value:

Deselected

All System Activities

Function:

Cancels the nearest incoming system activities.

Accepted Values:

Selected - Cancels the nearest incoming system activities.
Deselected - All system activities continue.

Default Value:

Deselected

Specific Activities

Function:

Cancels the selected activities.

Accepted Values:

Selected - Specifies that the selected activities are cancelled.
Deselected - Does not specify activities to cancel. You can select other options to specify activities to cancel by type.

Default Value:

Deselected

Activity Name

Function:

Specifies the list of activities that can be canceled.

To Open this Field:

On the Configuration window, click Specific Tasks.

Accepted Values:

A task name displayed in the list.

Default Value:

None

Type

Function:

Shows the activities that can be canceled.

To Open this Field:

On the Configuration window, click Specific Tasks.

Accepted Values:

An activity shown in the list.

Default Value:

None