Connection String Builder screen
Sets up a connection string to a workflow database or archive database for your tenant.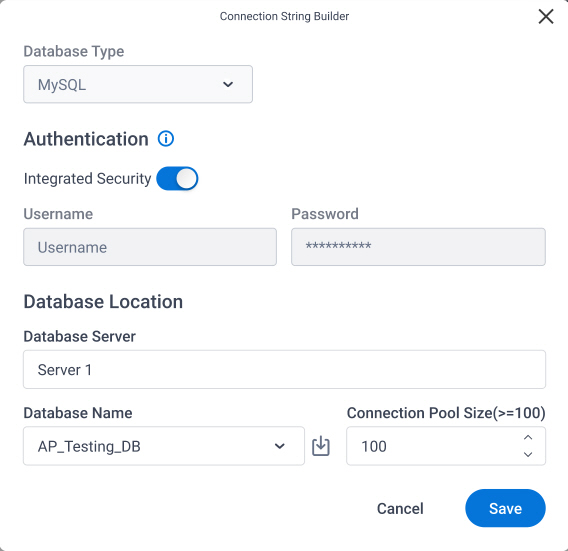 How to Start
On the AgilePoint Server machine, in Windows Explorer, right-click the file (AgilePoint Server installation folder)

C:\Program Files\AgilePoint\AgilePoint Server

\WCFConfigurationUtility.exe, and click Run as Administrator.
On the AgilePoint Server Manager screen, in the left pane, select your AgilePoint Server instance.
Click

Open Server Configuration

.
On the AgilePoint Configuration screen, click Multi-Tenant Configuration.
On the Mult-Tenant Configuration screen, click the Tenant Configuration tab.
Click the Tenant Database\Tenant Archive Database tab.
Fields
Field Name
Definition

Database Type

Function:

Specifies the database technology to store your data.

Accepted Values:

Read only

.

Username

Function:

The user name for the account AgilePoint Server uses to connect to the database.

Accepted Values:

An alphanumeric string

that contains a user name for the database.

Default Value:

None

Password

Function:

The password for the authentication account.

Accepted Values:

An alphanumeric string

that represents a password.

Default Value:

None

Integrated Security

Function:

When integrated security is selected, the current Windows users account credentials are used for authentication.

Accepted Values:

Selected - The Windows account credentials are used.
Deselected - The user name and password fields are enabled for database authentication, and you must enter the database credentials.

Default Value:

Selected

Database Server

Function:

Specifies the server name and domain for your database.

To Open this Field:

In the Database Type list, select Microsoft SQL Server.

Accepted Values:

A valid database server name.

Default Value:

None

Database Name

Function:

Specifies the name of your database.

Accepted Values:

A valid database name.

Default Value:

None

Retrieve

Function:

Retrieves the names of existing databases from the data source.

Connection Pool Size

Function:

Specifies the maximum number of database connections that use to connect to the workflow database at runtime.

Accepted Values:

An integer

.

It is recommended to use a connection pool size that is >= 100, or 2 * the thread pool size.

Default Value:

100