.NET Proxy activity

Configure the .NET Proxy activity
To configure the .NET Proxy activity, do the procedure in this topic.
General Configuration
Screen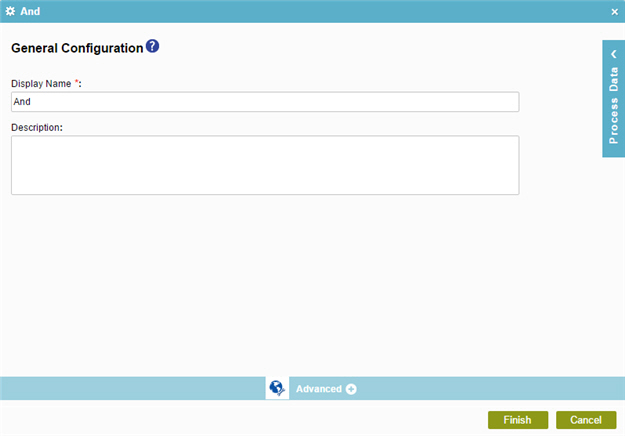 Fields
Field Name
Definition

Display Name

Description

Function:

Specifies an optional text description for your activity.

Accepted Values:

More than one line of text

.

Default Value:

None

Accepts Process Data Variables:

No
.NET Proxy Configuration
Specifies the web service method to call when the activity starts.
Screen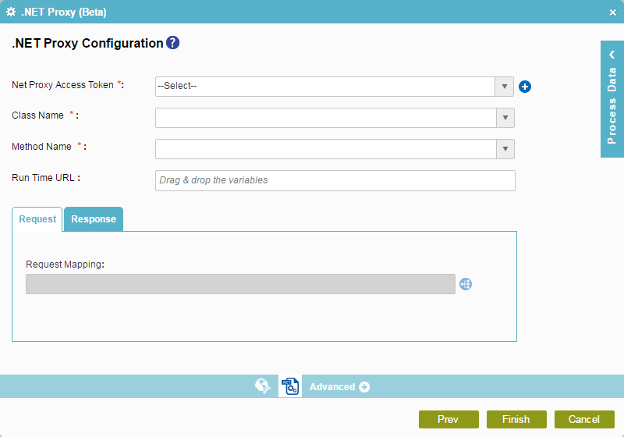 Fields
Field Name
Definition

.NET Proxy Access Token

Function:

Specifies the access token that connects to your web service from a .NET proxy on the AgilePoint Server machine.

Accepted Values:

A list of access tokens configured for your environment.

Default Value:

None

Accepts Process Data Variables:

No

Add Token

Opens this Screen:

Function of this Screen:

Configure an access token to connect to a .NET proxy service.

Class Name

Function:

Specifies the name of the .NET class to call.

Accepted Values:

A class name from the list.

Default Value:

None

Method Name

Function:

Specifies the name of the method to call.

Accepted Values:

A method name from the list.

Default Value:

None

Accepts Process Data Variables:

No

Runtime URL

Function:

Specifies the URL of the endpoint of the web service or WCF service you want to connect.

Accepted Values:

A valid endpoint URL.

Default Value:

None

Accepts Process Data Variables:

Yes

Example:

http://localhost:60617/WebService.asmx
http://myserver.com/AgilePointServer/Admin?WSDL
http://CSC-NINE:7002/AgilePointServer/Workflow

Request Mapping

Function:

Connects the web service request to your schema. This is mandatory only if the request passes data from the process schema to parameters in the web method.

To Open this Field:

On the .NET Proxy Configuration screen, click the Request tab. You can not map the schema if the web service type is None.

Accepted Values:

Click the

Schema Mapping

button to open the Schema Mapper.

Use this screen to connect the request to the data model for your process.

Default Value:

None

Map Response to AgilePoint Schema

Function:

Specifies if the web service response connects to your schema.

To Open this Field:

On the .NET Proxy Configuration screen, click the Response tab. You can not map the schema if the web service type is None.

Accepted Values:

Click the

Schema Mapping

button to open the Schema Mapper.

Use this screen to connect the response to the data model for your process.

Default Value:

None

Store the Response in Custom Attribute

Function:

Specifies the name of the process data variable that stores the response to a method call to a WCF service.

To Open this Field:

On the .NET Proxy Configuration screen, click the Response tab. You can not map the schema if the web service type is None.

Accepted Values:

Default Value:

None

Accepts Process Data Variables:

Yes