Create Channel activity
Configure the Create Channel activity
To configure the Create Channel activity, do the procedure in this topic.
How to Start
On the Application Explorer screen,

do one of these

:

Do one of these:

Add an activity:

In the Process Builder, in the Activity Library, open the

Slack

tab.
On the

Slack

tab, drag the

Create Channel

activity onto your process

.

Change an activity:

In your process, double-click your activity

.
General Configuration
Screen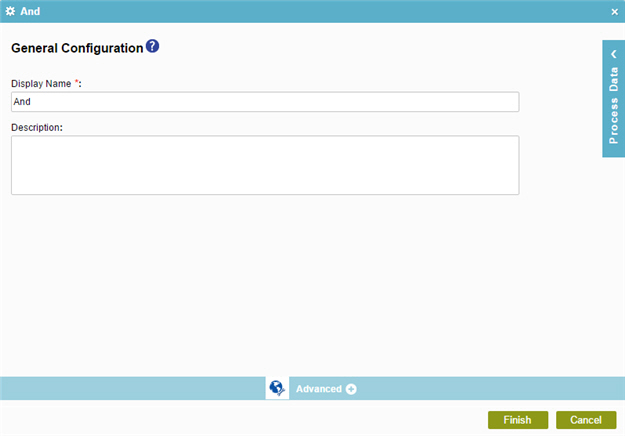 Fields
Field Name
Definition

Display Name

Description

Function:

Specifies an optional text description for your activity.

Accepted Values:

More than one line of text

.

Default Value:

None

Accepts Process Data Variables:

No
Create Channel Configuration
Specifies the information for the new channel.
Screen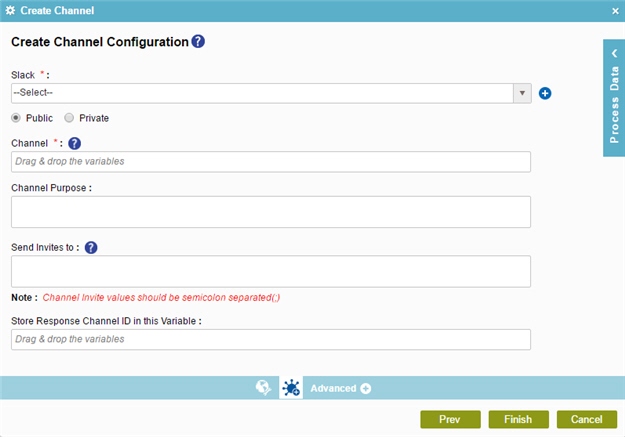 Fields
Field Name
Definition

Slack

Function:

Specifies the access token that connects to your Slack service.

Accepted Values:

A list of access tokens configured for your environment.

Default Value:

None

Add Token

Opens this Screen:

Function of this Screen:

Configure an access token to connect to Slack.

Public

Function:

Specifies if the channel is open to all users.

Accepted Values:

Selected - The channel for conversations that are open to all Slack users to see and join the channel.
Deselected - The channel is private or direct message.

Default Value:

Selected

Accepts Process Data Variables:

No

Private

Function:

Specifies if the channel is used for topics that are sensitive or confidential, or limited to a small group of users.

Accepted Values:

Selected - The channel members can see the content of this channel.
Deselected - The channel is public or direct message.

Default Value:

Deselected

Accepts Process Data Variables:

No

Channel

Function:

Specifies the name of the channel or the process data variable that contains the channel ID.

Accepted Values:

A channel name from the list.

Default Value:

None

Accepts Process Data Variables:

Yes

Channel Purpose

Function:

Specifies the function of the channel so Slack users can know if it is necessary to join.

Accepted Values:

More than one line of text

.

Default Value:

None

Accepts Process Data Variables:

Yes

Send Invites To

Function:

Specifies the IDs of Slack users to whom to send invitations to join a Slack channel.

Accepted Values:

A list of valid Slack user IDs, separated by semicolons (;)

Default Value:

None

Accepts Process Data Variables:

Yes

Store Response Channel ID in this Variable

Function:

Specifies a process data variable that stores the channel ID from Slack.

Accepted Values:

A process data variable that accepts an alphanumeric string with no spaces or special characters.

Default Value:

None

Accepts Process Data Variables:

Yes