Delegations Screen
Manages delegations.
A delegation is a temporary reassignment of a human task to a different user. Delegations can be used, for example, to temporarily reassign a task when a user is out of the office.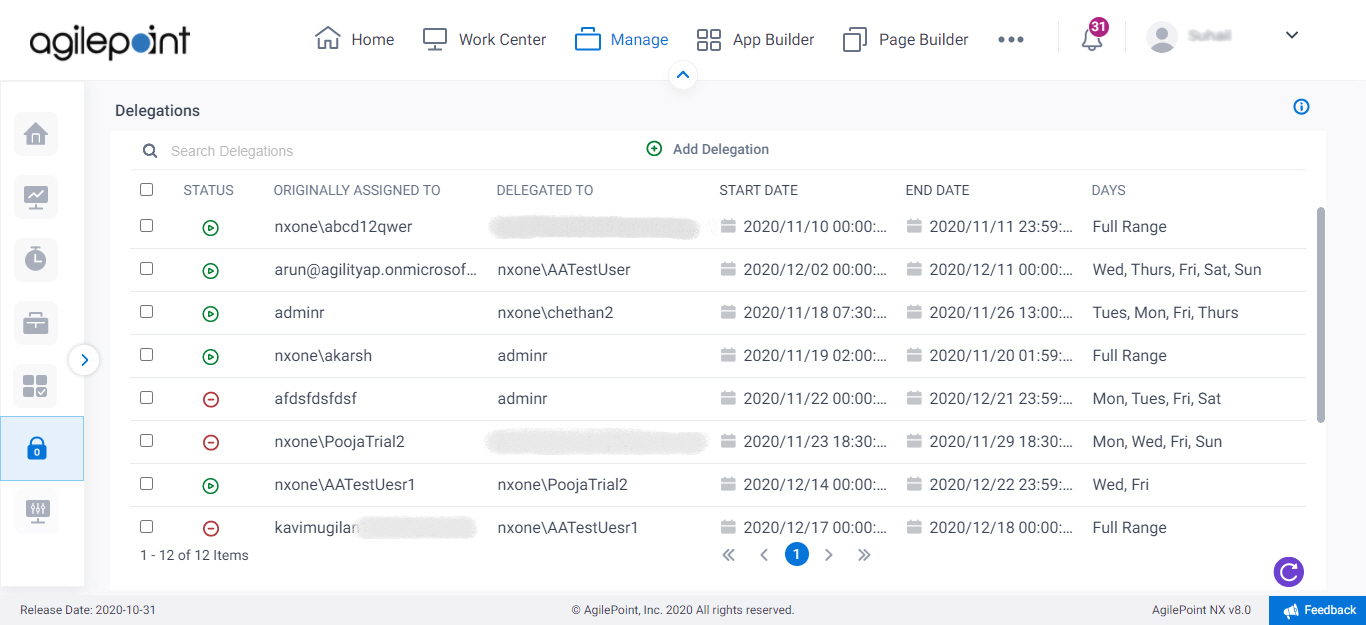 Video: Manage Your Organization
Examples
Examples - Step-by-step use case examples, information about what types of examples are provided in the AgilePoint NX Product Documentation, and other resources where you can find more examples.
How to Start
Click

Manage

.





In the

Manage Center

, click

Access Control

>

Delegations

.




Fields
Field Name
Definition

Add Delegation

Opens this Screen:

Function of this Screen:

Creates a delegation.

Edit Delegation

Opens this Screen:

Function of this Screen:

Changes a delegation.

To Open this Field:

Select your delegation.

Delete Delegation

Function:

Deletes the selected delegation.

To Open this Field:

Select a delegation.

Cancel Delegation

Function:

Cancels the delegation.

To Open this Field:

Select a delegation.

Example:

Refer to

:

Activate

Function:

Activates the selected delegation.

To Open this Field:

Select an inactive delegation.

Example:

Refer to

:

Status

Function:

Shows the status of the delegation.

Accepted Values:

Read only

.

Originally Assigned To

Opens this Screen:

Shows the name of the first user to whom the task was assigned.

Accepted Values:

Read only

.

Delegated To

Function:

Shows the user name to whom to temporarily reassign a task when the assigned participant is not available.

Accepted Values:

Read only

.

Start Date

Function:

Shows the date and time when the delegation starts.

Accepted Values:

Read only

.

End Date

Function:

Shows the date and time when the delegation ends.

Accepted Values:

Read only

.

Days

Function:

Shows whether the delegation applies to the full range or specified days.

Accepted Values:

Read only

.

Refresh