Access Token for Database
Screen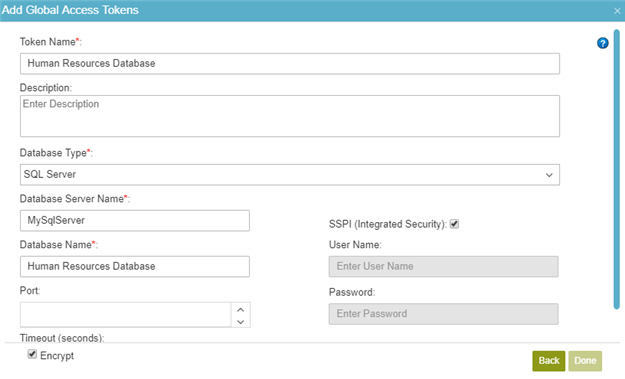 Background and Setup
Examples
Examples - Step-by-step use case examples, information about what types of examples are provided in the AgilePoint NX Product Documentation, and other resources where you can find more examples.
Good to Know
In most cases, you can use a global access token or an application level access token:

Global access tokens are shared across all users and applications. If you want all process designers and form users in your AgilePoint NX tenant to be able to connect to an external data source, use a global access token. An example is a SharePoint site on an intranet that all employees in a company can access.
Application level access tokens are shared with all processes in a process-based app, or restricted to use within a form-based app. Use application level access tokens if only process designers or form users for a particular application should access an external system — for example, a Google Drive account that is only used to share files within a small team.

Documentation for Third-Party Integrations

The highest priority for AgilePoint NX Product Documentation is accuracy. Whenever feasible, AgilePoint provides input details, business rules, or example values for third-party products. However this information is subject to change without notice to AgilePoint. Because we can not guarantee the accuracy of this information, the details provided for third-party product input values, as well as examples for third-party product integrations, are limited in the AgilePoint documentation. It is the responsibility of third-party vendors to provide documentation related to these aspects of their software and services.

For examples of use case implementations or configuration field input values for third-party products, AgilePoint recommends these resources:

AgilePoint Community Forums - An AgilePoint-moderated, crowd-sourcing user forum where you can ask questions about specific techniques, the solutions to use cases, workarounds, or other topics that may not be covered in the Product Documentation.
Third-Party Vendor Documentation - Whenever feasible, AgilePoint provides links to third-party documentation.
Professional Services - If you can not find the information you need for your specific business problem, mentoring is available through AgilePoint Professional Services.
How to Start
Fields
Field Name
Definition

Token Name

Function:

Specifies the unique name for your connection to the database.

Accepted Values:

A string that can include letters, numbers, and spaces.

Default Value:

None

Example:

Refer to

:

Description

Function:

A description for your database access token.

Accepted Values:

More than one line of text.

Default Value:

None

Database Type

Function:

Specifies the database technology to store your data.

Accepted Values:

Default Value:

None

Example:

Refer to

:

Database Server Name

Function:

Specifies the database server name, where your database is installed.

Accepted Values:

A valid database server name.

Default Value:

None

Accepts Process Data Variables:

No

Example:

Refer to

:

Database Name

Function:

Specifies the name of your database.

Accepted Values:

The name of your database.

If you select the Enter Database Name check box, the Database Name list becomes unavailable to select a database name. Type a database name in the box.

Default Value:

None

Example:

Refer to

:

Port

Function:

Specifies the port number to connect to the database server.

Accepted Values:

A valid port number.

Default Value:

None

Accepts Process Data Variables:

No

Timeout(seconds)

Function:

Specifies the maximum time in seconds to connect to the

database.

Accepted Values:

An integer

.

Default Value:

600

SSPI (Integrated Security)

Function:

Determines whether the SSPI integrated security is to be activated.

Accepted Values:

Deselected - Specifies not to activate the SSPI integrated security.
Selected - Specifies to activate the SSPI integrated security.

Default Value:

Deselected

User Name

Function:

Specifies the user name for

database authentication.

Accepted Values:

A valid user name.

Default Value:

None

Accepts Process Data Variables:

No

Password

Function:

The password for the authentication account.

Accepted Values:

An alphanumeric string

that represents a password.

Default Value:

None

Accepts Process Data Variables:

No

Test Connection

Function:

Makes sure the specified database account is correct.

Encrypt

Function:

Stores the access token in the AgilePoint database as encrypted data.

Note:

AgilePoint recommends you to store this access token in the database in encrypted format.

Accepted Values:

Deselected - The access token is in plain text in the database.
Selected - The access token is encrypted in the database.

Default Value:

Selected