Configure Parallel Approvals for External Forms
To configure the parallel approvals for a human task using external forms, do the procedure in this topic.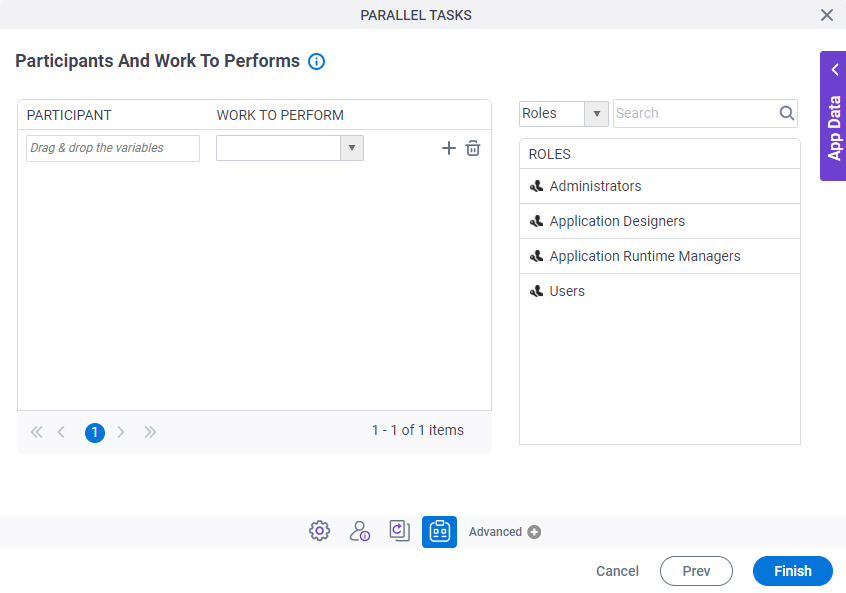 Good to Know
In most text fields, you can use process data variables as an alternative to literal data values.
Some information about third-party integrations is outside the scope of the AgilePoint NX Product Documentation. It is the responsibility of the vendors who create and maintain these technologies to provide this information. This includes specific business use cases and examples; explanations for third-party concepts; details about the data models and input and output data formats for third-party technologies; and various types of IDs, URL patterns, connection string formats, or other technical information that is specific to the third-party technologies.

For more information, refer to

Where Can I Find Information and Examples for Third-Party Integrations?
How to Start
On the

App Explorer

screen,

do one of these

:

Do one of these:

Add an activity:

In the

Process Builder

, in the

Activity Library

, open the

External Forms

tab.
On the

External Forms

tab, drag the

Parallel Tasks (External Forms)

activity onto your process

.

Change an activity:

In your process, double-click your activity

.

On the Participants and Work To Performs screen, click Dynamic Parallel Configuration.
Procedure
On the Participants And Work To Performs screen, in the Participant field, enter the user to whom the task is assigned.

You can specify only one user name in the Participant field. You can not specify more than one participant for a task at a time. However, you can add more than one instances of a task, each with a different participant assigned.

In Work To Perform field, enter the name of the task that shows in a participant's task list.

In most cases, for processes that use ASP.NET forms, this value also determines the file names for the .aspx form pages.

For the Web Form activity, this property does not set the file names for the web form. Instead, refer to Connect a Web Form to a Process