Add a CSS Class to an eForm Control
To add a CSS class to an eForm control, do the procedure in this topic.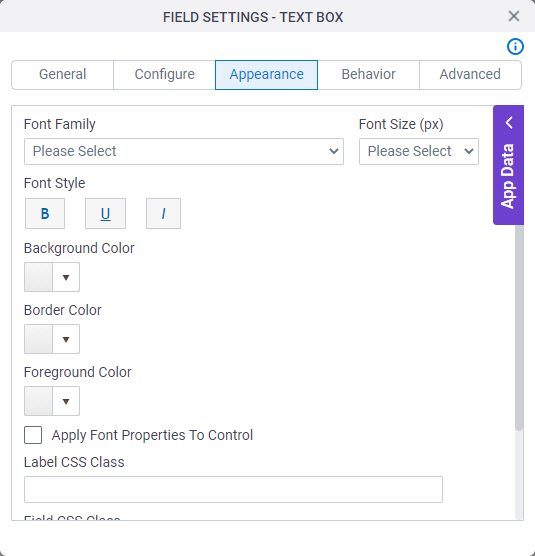 Video: Common Configuration Settings in eForm Controls
Examples
Advanced Examples

For more advanced or complex examples or specific information about how to solve a specific business problem or use case, AgilePoint recommends the following resources:
How to Start
On the

Application Explorer

screen,

do one of these

:

Do one of these:

Add a control:

On the

eForm Builder

screen, in the Toolbox, open one of these tabs.

Common Controls

Advanced Controls

Telerik Controls

On the tab, drag any form

form control onto your eForm

.

Change a control:

On your eForm, put your cursor over the form control, and click the

Edit Properties

icon.

On the configuration window for your control

, click the Appearance tab.
Procedure
On the Appearance tab,

complete these fields

as necessary

.

Field Name
Definition

Container CSS Class

Function:

Specifies a CSS class for the container of your control.

Accepted Values:

A valid CSS class.

Default Value:

None

If you specify your CSS on the top menu, the CSS is populated.

Example:

Refer to

:

Field CSS Class

Function:

Specifies a CSS class for the field in your control.

Accepted Values:

A valid CSS class.

Default Value:

None

If you specify your CSS on the top menu, the CSS is populated.

Example:

Refer to

:

Label CSS Class

Function:

Specifies a CSS class for the label of your control.

Accepted Values:

A valid CSS class.

Default Value:

None

If you specify your CSS on the top menu, the CSS is populated.

Example:

Refer to

: