Change a Role in AgilePoint NX
To change a role in AgilePoint NX, do the procedure in this topic.
Screen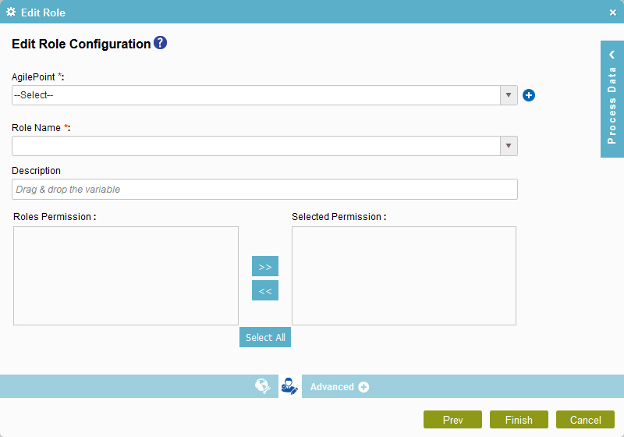 How to Start
On the Application Explorer screen,

do one of these

:

Do one of these:

Add an activity:

In the Process Builder, in the Activity Library, open the

AgilePoint NX

tab.
On the

AgilePoint NX

tab, drag the

Edit Role

activity onto your process

.

Change an activity:

In your process, double-click your activity

.

Click

Edit Role

.
Procedure
On the Edit Role Configuration screen, in the AgilePoint field, select your AgilePoint NX access token.

To create a new access token, click Add Token . For more information, refer to Access Token for AgilePoint NX.

In the Role Name field, enter the name of the role to change.
(Optional) In the Description field, enter a description for the role.
In the Roles Permission list, select the permissions you want, and click the right arrow (>>) button to move the items to the Selected Permissions list.

You can use the Ctrl key to select more than one item.