Add Participants to a Start Task with eForms
To add participants to an eForm task that starts a process, do the procedure in this topic.
Video: Set Task Participants Dynamically
Video: Assign a Task to a Group or Role
Examples
Examples - Step-by-step use case examples, information about what types of examples are provided in the AgilePoint NX Product Documentation, and other resources where you can find more examples.
Screen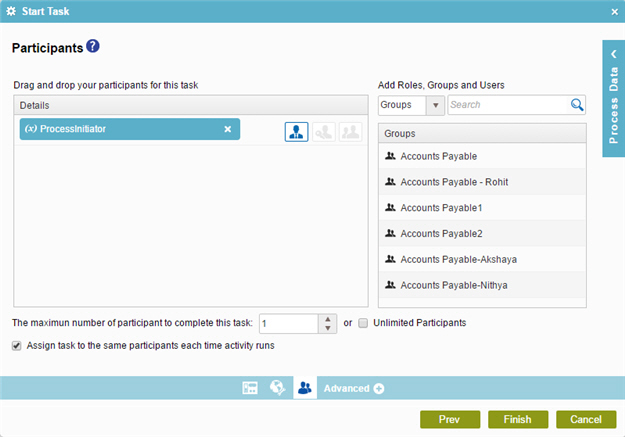 How to Start
On the Application Explorer screen,

do one of these

:

Do one of these:

Add an activity:

In the Process Builder, in the Activity Library, open the

eForms

tab.
On the

eForms

tab, drag the

Start Task (eForms)

activity onto your process

.

Change an activity:

In your process, double-click your activity

.

On the configuration screen

, click

Participants
Procedure
Select the participant for the task.

By default for a Start Task, the Details field shows Process Initiator in the participants list. This means that the user who completes the form starts the process when he or she submits the form. This value is required for a Start Task, but you can add additional participants.