Download a Digitally Signed Document with DocuSign
To download a digitally signed document with DocuSign, do the procedure in this topic.
Download Signed Document Screen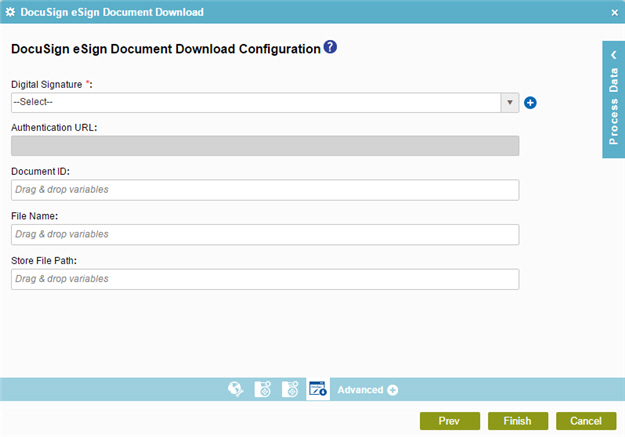 How to Start
On the Application Explorer screen,

do one of these

:

Do one of these:

Add an activity:

In the Process Builder, in the Activity Library, open the

Digital Signature

tab.
On the

Digital Signature

tab, drag the

DocuSign eSign Document Download

activity onto your process

.

Change an activity:

In your process, double-click your activity

.
Procedure
Complete the fields on the

General Configuration screen.

For more information, refer to Configure General Options for a System Activity.

Click

Target Configuration

.
On the Target Repository screen, select the target location for your file.
Click

Signed Document Download

On the Download Signed Document screen, in the Digital Signature field, select your DocSign access token.. When you select DocSign access token, the Authentication URL field is complete..
In the Document ID field, enter a unique document ID of the eSigned document to download.
In the Document Location field, enter the location to store the downloaded eSigned document.
In the File Name field, enter the name of the file for the downloaded eSigned document.